Install a Patio Cover
Experience the great outdoors while staying protected from the elements with beautiful, meticulously crafted patio covers, screen rooms, and sunrooms by Renaissance. As the exclusive Renaissance Patio Products partner in Boise, Spokane, Greenville, and the Tri-Cities, NOW Remodeling is proud to be a Diamond Dealer for the full line of Renaissance products. Renaissance Patio Products are designed to withstand whatever nature throws their way, with high-strength connections, sculpted beams, and covers for exposed fasteners. They come in a variety of styles to match your home, your needs, and your personal tastes.
Benefits of Installing Renaissance Patio Covers
Shade and protection from the elements
Safe, secure, and code compliant
Patent pending integrated construction system
Engineered connections for easy install and long life
UV resistant end caps and covers
Superior defense against high winds and heavy snow
High strength, custom attachment to the ground
Insulation for added cooling
Customized designs to compliment your home
Sculpted aluminum beams, seamless connections, and high impact nylon covers
Integrated, decorative gutter system that directs water away from your roofing
High quality roof panels that last
All extruded aluminum construction
Baked on finish for a lifetime of good looks
Rust-resistant nylon headed fasteners
Low maintenance
Expand your living space, transform your property.
Find out how. Explore our selection of Renaissance Patio Products: 

Clean lines, modern design, and a major step up from the plain old patio roof, the Renaissance Moderno gives your space a high-end look and feel without the high-end price tag.

Decorative framed look coupled with aluminum simplicity, at an affordable price point, the Renaissance Contempo makes your patio beautiful and practical.

The Classico is an uncompromising take on the traditional wood-framed patio roof, with a full truss framing system and a flawlessly high-end look.

Incorporating a translucent pearl, polycarbonate roofing system, the Renaissance Fresco lets in 70% of the sun's light, while keeping out the rain and reducing heat transfer.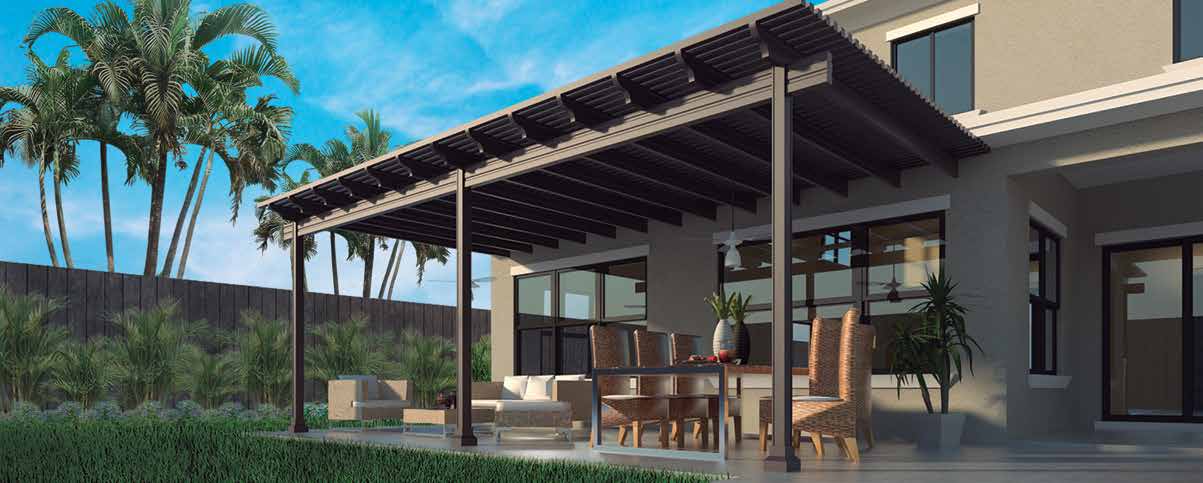 Renaissance Aria Shade Trellis
The Aria Shade Trellis looks like a wooden shade trellis, but is made of high strength, low maintenance extruded aluminum for long-lasting backyard entertainment and pleasure.

Renaissance Lumino Sunrooms
Lumino Sunrooms expand the seasons with Claro sunroom wall designs that allow any type of window or door to be installed in any one of our product lines.

Renaissance Dolce Seamless Screen Walls
Designed for protection and beauty, Dolce Seamless Screen Walls hide the screws and fasteners for a seamless look.
Install a patio cover!
Quality Construction  |  Competitive Pricing  |  Energy Efficient  |  Made in the U.S.